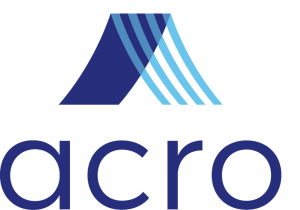 We've been itching for a spring refresh lately at Acro Photo Print Inc. – and now we have a whole new look for our website, including a custom-designed logo that was hand-selected by our team! Bearing both light and dark blue colors to communicate security and trust, this logo carries multiple unique meanings for our New York City copying & scanning services.
Our business name, Acro, is actually an acronym for our four core values: Accurate, Courteous, Reliable, and On-Time. Since 1976, we've been striving to deliver top-notch printing service that correlates with these values, and exceeds our clients' expectations. That's why our new logo mark has four lines, to symbolize how these four principles form the foundation of everything that we do.
The symbolism doesn't stop there, either! With the bridged "A" mark in our new logo, we wanted to represent our ability to bridge the gaps between the legal community and the need for effective copying, scanning, and printing services. The streamlined and modern design also calls to mind two pieces of paper – one being copied and the other being shredded – as a visual reminder of the work we do.
Committed to Helping Local Businesses and Law Firms
No matter how much has changed in the 43 years since we opened our doors, Acro Photo Print Inc. is still just as committed to providing prompt, reliable, and high quality services for our customers. We know that attorneys often struggle to find effective legal printing solutions that can follow their tight deadlines, so we've made it our mission to help remedy that problem!
Combining "old fashioned" customer service with the latest in scanning and printing technology, our experienced team members are entirely dedicated to making our customers happy. Although our logo may look a little different now, our 4 core values have not changed in the slightest – and we'll continue to strive for your complete satisfaction!
For more information about our services in NYC, call (929) 244-4322 today!